In celebration of Black History Month, Air/Light is excited to feature a series of works by Black writers from the archives of the Southern California Review, whose archives we're in the process of digitizing.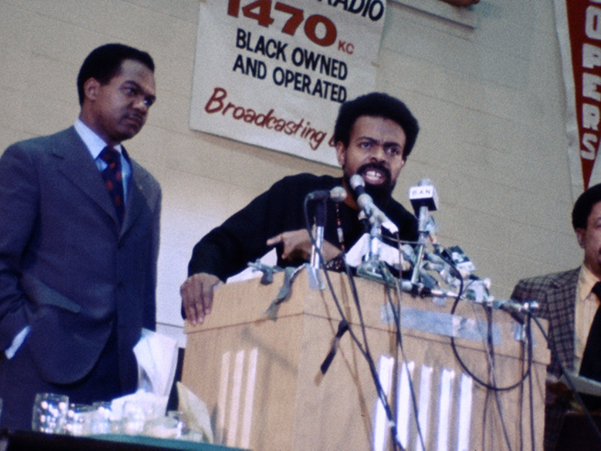 Today we bring you "The City of New Ark: A Poem of Destiny" by Amiri Baraka. One of the major writers of the 20th century, Baraka was a powerful force in poetry, fiction, theater, and criticism. Throughout his prolific writing career, Baraka maintained a principled dedication to the politics of Black Liberation as a community organizer in his hometown of Newark, New Jersey and a national activist. Notably, Baraka organized the first National Black Political Convention in Gary, Indiana in 1972. Footage of the event can be seen in the newly-restored edition of William Greaves' documentary
Nationtime
(1972), which takes its title from one of Baraka's poems.
Baraka's major works include the poetry collections Preface to a Twenty Volume Suicide Note (1961), Black Magic (1969), It's Nation Time (1970), and Wise, Why's Y's (1995); the play Dutchman (1964); the novel The System of Dante's Hell (1965) and Tales of the Out & the Gone (2006); and essays and nonfiction in Home: Social Essays (1963) and Blues People: Negro Music in White America (1965).
Baraka died in 2014. At a moment when Black Liberation and racial justice are at the forefront of national politics, Baraka's presence is still being felt.
"The City of New Ark: A Poem of Destiny" was published in The Southern California Anthology volume 16 in 1999. The editors were James Ragan and Linda Mastrangelo.
A NOTE ON THE SOUTHERN CALIFORNIA REVIEW ARCHIVES
Founded in 1971, The Southern California Anthology (later The Southern California Review) played a crucial role in the literary ecology of Southern California. Under the leadership of Ann Stanford and James Ragan, the SCR was for many years the literary journal of USC's Masters of Professional Writing Program and was edited and managed by students, with assistance from faculty advisors. Air/Light editor David L. Ulin was faculty advisor during the journal's final years. The journal published writing by nationally renowned writers including Nikki Giovanni, Susan Orlean, Dana Johnson, W.S. Merwin, Hubert Selby, Jr., Marge Piercy, Emily Rapp Black, and many, many others.
Though SCR ended in 2015, we see Air/Light as part of the tradition of bringing the perspective of Southern California to the national and world literary stage. We're thrilled to be able to digitize and host the complete run of the Southern California Review as a publicly-accessible online archive. We're still in the midst of this project, but we'll continue to publish more archival finds as we move forward.