Queer nightlife has stopped and started and stopped again for many of us navigating restrictions brought on by the pandemic. So I summon the spring and summer of 2018. Back when queer nightlife was last a daily occurrence for me. I think of Martín Sorrendeguy's Cinquentañera, an incredible party at Club Chico in Montebello, marking the punk rock hero's entrance, complete in blue tulle, into his fiftieth year. These events are messily chronicled with blurry smartphone camera photos that now live on the cloud somewhere. I'm shit-grinning, toasting, dirty dancing with the legends of underground culture. My memories sizzle with desire to do it again the way your mouth waters when someone mentions McDonald's fries. Such throwaway moments continue to exist in my mind and perhaps in the anecdotal registers of all the others who were there. But when I want to see the document of these undergrounds that will outlast all of our multitudes, I turn to the photography of Amina Cruz.
The first time I encountered Cruz's photography—like really encountered it—I was suddenly the subject. I saw myself anew in a familiar environment, captured onstage with a microphone at my chin, a quiet open-eyed repose, a blue-green aura around my crown, eyes laser-focused in reverence on the televised image of Cyclona, the patron saint of queer Chicanx provocation. I have devoted much of my queer adulthood to resurrecting the revolutionary moments of queer quotidian life in the neighborhoods in which I came of age. 
Cruz caught that in one click.
But it's not speed that Cruz relies on for these moments. The film camera she uses is from 1945. It is not equipped with a light meter nor is it able to focus, she tells me in an email. Cruz cannot force the camera to do what it is not capable of doing. Her practice is predicated on slowness. And slowing down in a club space comes with its challenges, not including the need to remain vulnerable to what is revealed. Cruz operates under a rubric she calls the Brown Gaze. An intentional refusal to overtake the environment, and a rejection of the tenet of objectivity that requires image makers to remain distant. For her, capturing the moment on film is always collaborative and personal.
This moment in which she caught me was from a program I organized with Dirty Looks, a platform for queer film, video, and performance founded in 2011 by film historian and curator Bradford Nordeen. It was an homage to Cyclona, who had been an important embodied vector of Chicano movement activist exhaustion and queer liberatory dynamism for me. Born in El Paso and raised in East Los Angeles, I was eager to turn the local club kids on to Cyclona's artistic corpus. The evening was anchored by a performance that prismatically interpreted the confrontational works for which Cyclona is known. We danced below the bootlegged images of Cyclona's poems screened on the dance floor's television. Cruz had been there to document Gabriela Ruiz and Sebastian Hernández's performance, a Dionysian number culminating in a wild lap dance freak-off that crushed the flaming red Cheetos the two had entered carrying on a silver platter. I was riveted by the night's neon haze peopled in various generational hues. 
In other words, all my friends are family. 
A few weeks later, I saw a notification from the Zuckerverse and found my countenance suddenly defamiliarized on the IG timeline du jour. It was Cruz's handle and avatar, and I was stunned by a convergence of surprises. First, I was depicted in a way that prompted me to think of all the times I had been to Chico's over the last decade and always felt like I was holding up its walls. In Cruz's photograph of me, I can see my life's mission, and part of it is to emphasize the important role gay bars play in creating queer language and culture. Second, I had to recall if I even saw Cruz that night—certainly not at the bar, on the dance floor, or in the parking lot-turned-smoking section. I imagined the photographer perched and ready to capture each fleeting moment, eschewing the concomitant social exchanges on which these queer gathering spaces are predicated. Third, it occurred to me that Cruz is preternaturally adept in the art of observation. She sees the queer Brown ecstatic in and of the subjects, even in the split second before that ecstasy absconds with the 4/4 beat from whence it came. More so, I revel in Cruz's ability to earn quickly the trust of the queer public she occupies in pursuit of the image.
Such a vantage point centers queer and trans BIPOC punks in photographic scenes that imply what resisting dispossession, social death, and familial rejection might look like and does so with aplomb. The porous boundaries that underpin the psychic fields of Cruz's subjects come to life in the untitled series that presents a range of Mexico City's queer and trans people in scenes of public intimacy. In Amor (2018), we see a masculine-perceived gay couple, lights on the dance floor signaling the end of the night. These two hold each other as if in a rite of passionate homecoming. It is the kind of sensuality, centered in the frame, that emanates with safety and regard for the members of this dyad. It is also a spectacular exhibition of desire oblivious (except for a few curiously voyeuristic gazes) to the rest of the revellers caught in the narrow horizontal mirror at the back of the scene. The crowd in the mirror is in the midst of picking up their own trade or dragging their lovers away from other lovers.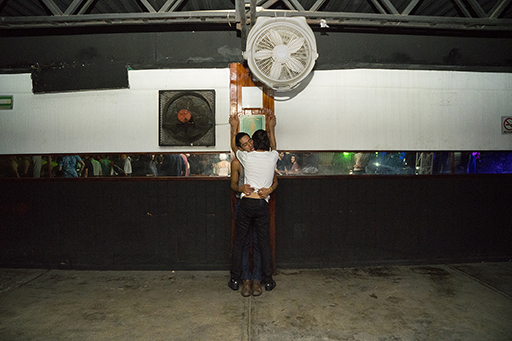 In Leather Papi (2018), Cruz directs the viewer's eye to another club-as-art space spectacle with the artist Gabriela Ruiz's back turned to the camera's lens. We see Ruiz with her head back, shirtless, facing the falling wax of a candle as it is held up by a young, feminine volunteer from the audience, her eyes intently focused on the candle angled in her hand. The flame dances atop Ruiz's head as if its tongue of fire was ready to speak. The scene reminds me of seventeenth century Italian religious paintings, but in Cruz's hands, the image is reconstructed, composed of several clubgoers in various states of ecstatic witnessing, book-ended by a young man with hands clasped as if in prayer above his heart where the fanny pack crosses his chest. Much as The Limelight found its purpose inside Manhattan's Church of the Holy Communion, there's a reason why the club is church to many young queer and trans Black and Brown people. Many have nowhere else to turn because of economic precarity or abusive relatives in the home. I have written this elsewhere, but club spaces are care spaces, and Cruz's work is demonstrative of that cognizance.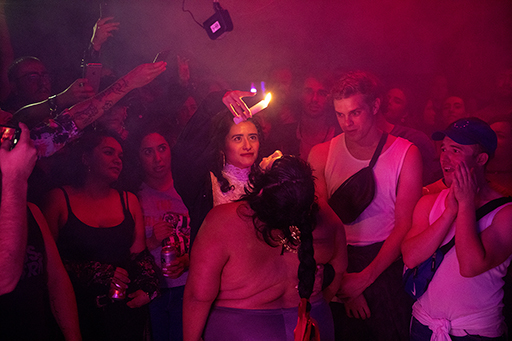 While the ways that queer BIPOC people are impacted by the unforgiving economies of gentrification and/or migration influence the context of Cruz's oeuvre, it has been those structural stressors that shape the individual, pulling them towards the collectivizing impulse to form a scene. First, of survival. Second, of conditional recognition. These energies have been amplified by the death and grief and uncertainty that the COVID-19 pandemic has unleashed on these vulnerable communities. In her portraiture and environmental photography, we receive some inkling of how those club and communal scenes provide temporary relief for the undocumented and third generation descendants of migrants by offering a contemplative space where identity and gender might be staged. But such subjects now stand alone, away from friends and community, and don't make entry particularly welcoming—and why should they? As viewers, we aren't meant to cast our gaze as if it were a treat to witness portraits of queer and trans endurance of a toxic power structure that thrives on their dismissal and annihilation. To view these images is already a privilege as we bear witness to the powerful query Cruz poses to her viewers: What does it mean to fashion oneself atop the rubble of social safety nets? Many viewers might never have to entertain that question. But for those who look to living examples of queer and trans fury, refusal, and recalcitrance for their own self-fashioning and language-making, these images are true succor. 
The same safety nets have been denied to generations before them. The children of the undocumented are denied every possible chance of access to the various valences in the phrase "social security." Even before they resist and reject the structural domination that metabolized their blood kin, they are resisting the structures that raised them in the private space of the familial home.
In Cruz's current series, subjects like Jordi NOLA (2020) are photographed outside the club space in a dizzyingly pink living room, leaning against a dancer's pole, knee bent at a 45-degree angle, eyes fixed cuttingly on the photographer's lens. It is not difficult to conjecture that such a subject finds themselves alone, though often occupying the rooms within a collective household, with roommates or a cadre of lovers, perhaps extended family. The emotional histories of the working class domestic structure vibrate in the unseen backgrounds of these photographs. Or maybe you do see them? In the tilt of the subject's head, the heavy lids of suspicion like those belonging to Nube (2020), brows furrowed in skepticism despite being radiantly enshrouded in what I imagine are Los Angeles's famously overflowing pink and orange bougainvilleas.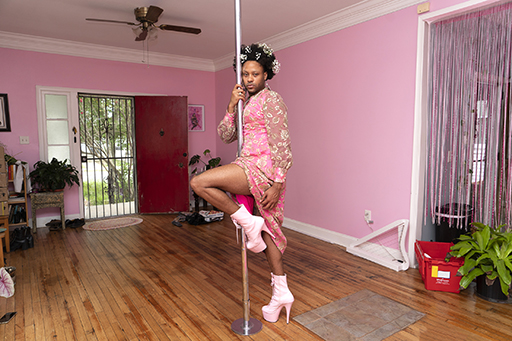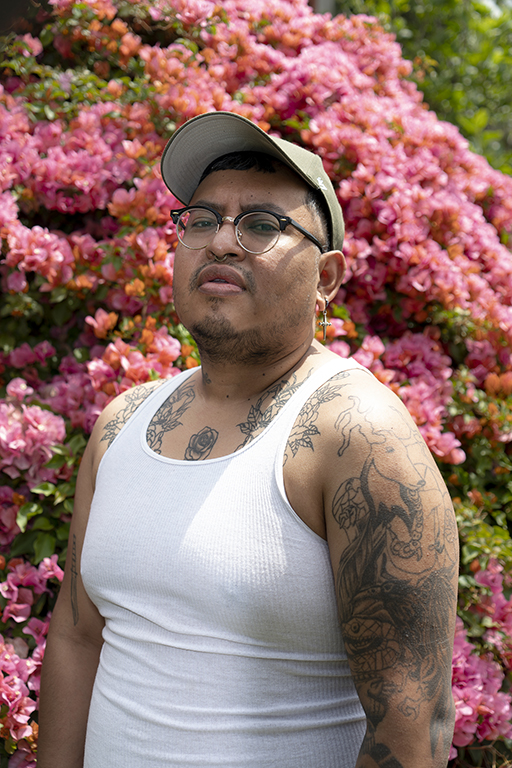 The expressions that rest on the faces of Cruz's subjects emanate a familiar pain—one where expressing oneself is forbidden in a house run by toxic patriarchs or traumatized matriarchs, and the policing of such expressions is outright abusive. Where in the lead-painted walls do we retrieve our excessive curiosities? That which we hid so as to not overwhelm our overtaxed caretakers? To be willfully dismissed, to be silenced or rendered invisible, means forging an uncomfortable identity palatable for those with limited imaginations. 
How do we arrive at a perspective that makes sense of the pain that contoured the psychic spaces everyone hopes to leave one day? Cruz's images remind me of what I have had to expunge in my own psychodramas and the relational struggles that surged from the seeds of my queer childhood. A necessary reckoning that follows every young queer and trans person of color on the verge of deciding their adult fate.