Kamala Puligandla's Zigzags (Not a Cult Press) is a queer coming-of-age story which follows Aneesha, a spirited MFA student in her mid-20s, through a summer in Chicago. Aneesha writes in coffee shops, takes day-trips with her friends, and rides her bike between bars and parties. Her story is alive with frenetic energy. Zigzags centers community — its narrative is dialog-driven and its characters are exuberant as they navigate friendships and romances on a journey towards self-discovery.
Melissa Valentine gives us another version of the coming-of-age story in The Names of All the Flowers (The Feminist Press). In this memoir, Valentine recounts her early life with her brother, Junior, and their family in the 1990s, between visits to Selma, AL and life in gentrifying Oakland, CA. Junior's death by gun violence both foregrounds Valentine's story and contextualizes her family's grief within a larger narrative of collective trauma. Valentine remains astute in her narration. She sees her brother both intimately — Junior is her closest sibling in age — and in the way the world views him as he grows from childhood into adolescence. Valentine writes through memories and deals in joy, anger and loss. Hers is an urgent story told in a deft, dynamic voice.
In our conversation, Puligandla and Valentine discuss their work, how they constructed their past selves in prose, and their shifting perspectives on both the craft of writing and themselves as writers.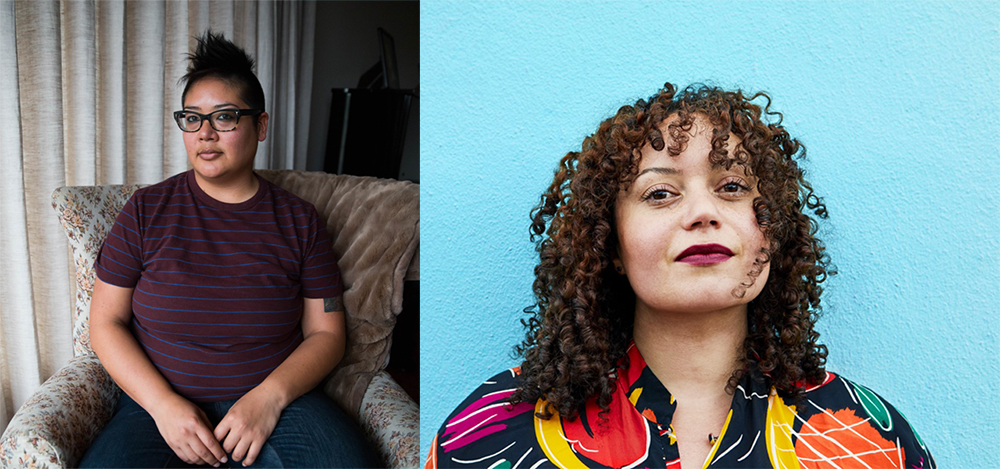 Soleil Garneau: In both of your books, your speakers represent some version of yourself—be it your past self, a persona, or a refraction. Your speakers deliver their stories with sharp, singular points of view. Yet it's clear that the people around them—families, friends, lovers, sometimes strangers—have touched their lives profoundly. Can you speak to the development of your main characters? How did their exterior realities shape their interiorities? What was it like writing these characters? How did writing them affect you?
Melissa Valentine: I wrote my story [The Names of All the Flowers] from a first person child's perspective and in order to inhabit that voice—the voice of my child self—I had to employ a lot of restraint. Obviously my adult self knew the kind of story I wanted to tell, she had already digested and made meaning of the events she was retelling so in order to be my child self on the page, I had to try my best to un-know as much as possible so I could give each character the complexity, compassion, and unfolding they deserved. I also brought in a more descriptive, expository narrative that allowed me to bring in my present-day wisdom; this combination achieved the meaning-making I needed with the child voice.
Even though my character was me, I think I probably used the same devices any writer would in getting to know their characters. What did I like, what did I feel, what were my dreams, what mattered to me? I detached her from my present self. This was freeing. Most importantly, I loved her. I cared about her ideas and thoughts, her fears.
Kamala Puligandla: One of the things that most interests me about writing fiction is exploring all the different versions of myself that I can imagine and taking these versions out for a spin to see who she might become. When I began writing Zigzags, I wasn't that far removed from the version of myself I was writing about—Aneesha—and so in my early drafts, I was just recreating scenes and characters that felt very present for me, in order to figure out things like the driving motivations and biggest conflicts in the book. Which was super helpful, not just for my book, but also for my life! So it felt natural to write my character and it gave me a much clearer understanding of myself as I did it.
The characters in my book are as much the setting as the physical and cultural landscapes, and one of Aneesha's emotional arcs is understanding the limitations of that social and cultural landscape, even when it's comfortable and loving. I think anytime a character is learning about who they are, there is constant negotiation between the interior and exterior. So often Aneesha is using the exterior world to test ideas or to learn where things conflict, where they depart, how they come together—because she's someone whose personal experience of the world feels unique and removed from a mainstream experience.
SG: Melissa, your memoir centers on your childhood and teenage years, and also calls back to your family's history. And Kamala, your book draws inspiration from the somewhat recent past. How did your adult perspectives affect your abilities to write about the past? Or, more generally, how did time affect your writing process?
KP: My book came out in October of last year, which was eight years after I first started writing it, and as my adult perspective grew, the better I understood the intricacies of what my characters were doing and why and how to connect the pieces, even if I didn't particularly like what they said about me. There are definitely parts of the book that are cringy now, but I also wanted it to be a picture of the mindset that I lived in at that time. As I was doing edits this past year I was like, "When was the last time I had a straight cis, white man friend — or really any straight white friends, why did I do this to myself?" But I also felt so much love for this past version of myself, who was dreaming of my life now, without even knowing it!
MV: Children observe their world, but they don't learn to attach meaning to their experiences until they are older, until they have language and wisdom, whether these experiences are traumatic or happy. I let my narrator deeply observe her world (her family, her city, the behavior of adults) in ways that were fascinating for me to write. A child's point of view is in itself an interesting way to experience the world; but having the ability to create story and meaning from those observations was where the art came through from my present self. Craft comes in quite a bit when dealing with long passages of time as I do in The Names of All the Flowers.
SG: Both of your books contend with ideas of home, place, movement, and return. Can you speak to these ideas? Do you see home and family (or friends, or chosen family) as necessarily connected?
KP: I love this question. I think what constitutes home or home-feelings have changed a lot for me over the course of my writing. Zigzags represents a specific period of time in my life—where the home Aneesha was searching for was one she could build anywhere. It was less about a place or even a single community, and more about having a strong sense of who she was and what mattered most to her. And to do that, she really needed to be in motion, so she could sense the differences between realities. It's like when I go to the eye doctor and we flip through different prescriptions and the doctor will go "How about this one, better or worse?" until we find one where I can see the most letters the most clearly—and I never know, until I see the comparison, that I was missing something in the first place. For me, cycles, habits, familiarity, return are all really important parts of feeling continuity and building significance. But what thrills me about life is the constant of change and never really knowing how or where I'll be moved next.
MV: Oakland, California, where my book is set, is a very important character in the book. This place—its beauty, its violence, its diversity, its gentrification—had such an impact on both my and my siblings' identity and coming of age. Leaving Oakland and also leaving my family home—which for me was a complicated place where affection wasn't freely given and I was much more isolated than my peers—and then entering worlds where entirely different social and emotional rules apply felt at times like an out of body experience. I suppose returning home to that place and to my family, as well as returning to them to write this book, has been a long lesson in the integration of my many selves and stories. When home is trauma, the meaning of "home" can be quite fraught. Today I don't live in Oakland, but I would, and I have created home in many places with different people. When it comes to my family and city of origin, I'm at a place of acceptance and compassion.
SG: Also present in your writing is themes of and loss and impermanence (due to time, change, age, or violence). Would you say loss, change, and transition defined your characters?
MV: The loss of my brother Junior certainly defined my character. He was killed by gun violence at 19. It is known in the book's introduction that he will die and the entire book leads breathlessly to his death from early childhood to his teenage years. I suppose I did this so the reader would experience the book with early compassion for the characters, that they might pay more attention and read them with more tenderness.
KP: Yes, absolutely. Aneesha is based on me when I was in my mid-twenties and I was plagued at the time by the feeling that something was wrong with me because since college, though I had built beautiful lives in many cities with wonderful people who meant the world to me, I still, always, at some point, had this feeling that I wanted something more. It was heartbreaking because I was always leaving people behind, I felt like I was disappointing the people who were invested in me, and I felt so new compared to people who pursued one path in one place. Now, it's clear to me that as someone with no role models, I was just finding out what was possible for me to want. I ended up getting a tattoo of waves when I was 25, because I wanted to remind myself that everything would shift and change forever, and that sometimes this was sad, but it also allowed me to enter into immense joy. Aneesha is totally the version of me who got the tattoo. Now, I know that the kind of permanence that works for me is one with people who expect and plan for us to change forever.
SG: Kamala, what does Aneesha mean to you now? Is she still a part of you?
KP: Yeah, very much! This was when I started to realize that I had power in my life, and that I could make decisions or pursue things I wanted and they could actually happen. The part of myself that still needs this reminder sometimes, that still is shocked when I experience success, and that still sometimes wants to make an iffy decision "just to see" are all the ways that I still feel Aneesha.
SG: Melissa, what is your relationship to your past self, now that you've written and published your book?
MV: Writing this book was a very healing act. I love my little girl self so much after writing this book from her voice. During the writing process I became reacquainted with how powerless she felt and, at times, that self does visit me, but I am equipped with a whole life of experience now, and tools. On the positive side, her sense of wonder, her optimism, her strength and resilience, the poetic way she sees the world—all of that is very much a part of me that I welcome.
SG: How has your relationship to these stories changed since your books were written and published?
KP: I am not at all close with the friends this book is about anymore, which isn't a surprise since that's what the book is about, though I really didn't know the extent of it when I wrote it. So that has changed the way I feel about this chapter of my life, in that it feels like an old me. But the narrative continues to resonate with me and makes me laugh—I'm still chasing that little flutter that propels me messily into the night and wanting to make complicated relationships last and hoping to love people for exactly who they are.
MV: To my surprise, my family of origin became closer after publication. My siblings and I have weekly family Zoom calls with our parents and we're all closer than ever. I had tough conversations with some family members, but in the end I was amazed at how they let me have my truth for the most part and let themselves be proud of what I'd created instead of holding onto anger. The Names of All the Flowers came out in 2020, the 20th anniversary of Junior's murder. My grief will always be with me, but I think something the book taught me is that his death didn't happen to me, it is me—everything I learned, the grief I've felt, the trauma I've worked through, the story he gave me, my capacity to love and heal.
SG: What's next? Do you know what your next story or project is?
MV: It was hard to create in 2020 for obvious reasons. As always in life, the conditions for writing are never ideal so, as always, I am carving out time for my work and seeing what comes. Right now I'm exploring a collection of essays. I'd also like to write a novel eventually.
KP: My novella, called You Can Vibe Me On My FemmePhone, was published on January 22. I'm currently working on a few things that I'm not sure how they'll pan out. One of them is about dating my clone. Another of them is something that's based around a period of time I imagine in the future when most people—and all white people—leave earth because our capitalist world declares it only has seven years left of resources on it, but there are some people who stay behind because they see it as their first and only opportunity to build their dreams and live freely.
Zigzags
by Kamala Puligandla
Not a Cult, 2020
280 pages, $16.00
Kamala Puligandla is a writer and editor in LA. She writes autobiographical fiction and essays on queer love and futures, meaning she will definitely draw from her conversations with you. Her first novel, Zigzags, is out from Not A Cult and her novella, You Can Vibe Me On My FemmePhone, came out this January from Co — Conspirator Press. Kamala is currently the Communications and Marketing Director at the Women's Center for Creative Work, and is well-known for her contagious laughter, her iconic hairstyle and her easily undone heart. Find her at kamalapuligandla.com.
The Names of all the Flowers
by Melissa Valentine
The Feminist Press, 2020
296 pages, $17.95
Melissa Valentine's debut memoir, The Names Of All The Flowers, was named the 2019 winner of the Louise Meriwether First Book Prize and was published by The Feminist Press in July of 2020. A writer and an editor born and raised in Oakland, California, Melissa received her BA from Sarah Lawrence College and her MFA from Mills College. Her work has appeared in Guernica, Jezebel, Apogee, Niche, Friends Journal, Sassafras, and Blackberry. She was a finalist for Glimmer Train's Family Matters contest and her work received honorable mention for the Ardella Mills Nonfiction Award. Melissa has also been a fellow at the San Francisco Writers Grotto. Melissa is currently Executive Editor at Callisto Media in New York. She lives in Brooklyn.