I. Schnucks: A Giant Among Supermarkets
 
             This is why I don't do self-checkout. I was at Schnucks with my dad 
             and he was overcharged for 2 out of 10 things. This happens almost 
             every time we do self-checkout. Dad is somewhat hard of hearing, 	
             occasionally stubborn, so I get it when he insists on using self-checkout, 	
             but then I'm the one who has to stand in line at customer service and 	
             unload everything onto the counter. Ragu Pasta Sauce was 3 for $5. 
             Dad got 3 but was charged for $8. Chicken sausages were buy one, 
             get one free. Dad got 4 and was charged for 4. It's embarrassing, and to 				
                                      top everything else off, 
             dad was trying to return a bad batch of flowers, and since it wasn't on his 				
                                                 Schnucks 
             Rewards Card they made him jump through hoops to exchange it. 
             My dad's a sweetheart but highly principled, and if crossed 
             he's known to slam a bouquet of Carnations onto the service counter and 
			            everyone stands 
	     around unaroused, like there's been some misunderstanding. 

		         —"Say it. . ." nothing but
		         the friendly faces of employees.
		         Once upon a time, I worked at this Creve Coeur store
		         and once when I was out back for a cigarette break, 
		         I set free a gold helium balloon trapped behind a dumpster. 
		         In bubbly cursive it read: Best Day Ever.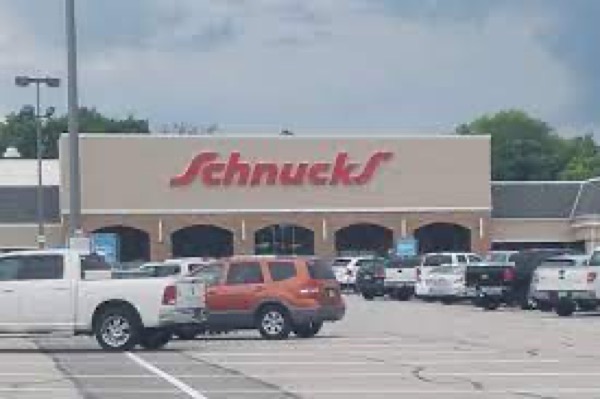 From above, higher than the Schnucks rooftop, 
	high enough to make out the crack in the heart-shaped lake, 
	higher than the Schnucks dumpsters 
	and the crumbling asphalt, the shiny gold balloon, 
	long hair flowing, an unrequited love suicide, 
	mangled in the dead leaves, plastic bags,
	and dried weeds, a tiny man, ancient, shouting— 
	twisting in the wind, the other side of the balloon reads:
	Grand Opening! Every new mall like a fresh start. 


	           Back then, there was a manager, Zach, 
		   who'd intentionally hide trash in corners 
		   to see if I was sweeping properly.
		   Um. . .  I think you missed this area. 

	A man like that whose hair is very much in place,
	like a tulip, knows how to bring an MBA degree
	to grocery store management. 

							                     But Zach
	was not a zip code unto himself.